10. Us
Released: March 22
Cast: Lupita Nyong'o, Winston Duke, Elisabeth Moss, Tim Heidecker
Director: Jordan Peele (Get Out)
Why it's great: The double, the doppelgänger with questionable intentions and mysterious origins, is a potent concept for both horror and comedy. Fittingly, writer and director Jordan Peele uses the device to elicit scares and laughs in Us, his sophomore feature about a family, led by intrepid parents Adelaide (Nyong'o) and Gabe (Duke), facing off against their jumpsuit-wearing, scissor-wielding counterparts in the middle of a leisurely vacation. What begins as an unsettling home invasion thriller with socio-political undertones in the vein of Michel Haneke's Funny Gamesgives way to a more frenzied, twist-filled science-fiction brain-teaser that tunnels deep into feelings of paranoia like an episode of Lost or The Twilight Zone. Peele's theme-park ride sense of pacing, particularly in a mid-movie sequence scored to the music of the Beach Boys and N.W.A., keeps you from questioning some of the leaps in narrative logic. (The ending, which goes to great lengths to explain certain aspects of the world and avoids others, might be a deal-breaker for some viewers.) Less elegant than the conceptually air-tight Get Out, Us explodes in a million directions and raises questions that simply can't be answered. Untethering the ideas becomes half the fun.
Where to see it: Rent on Amazon, iTunes, Vudu, and YouTube (Watch the trailer)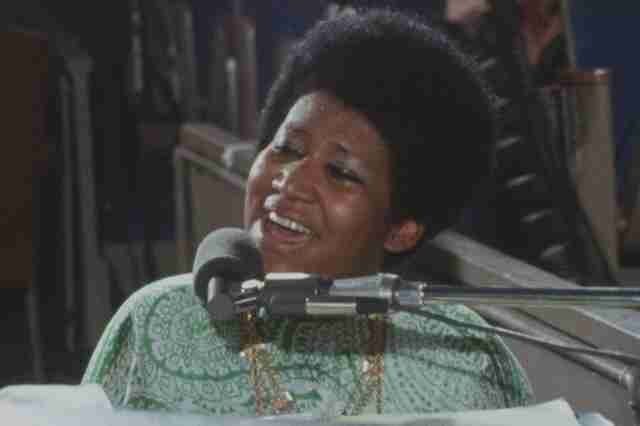 9. Amazing Grace
Released: April 5
Directors: Alan Elliott and Sydney Pollack
Why it's great: Aretha Franklin's voice has the power to transport the listener through time. In Amazing Grace, a captivating concert film made of footage shot in 1972 during the live recording sessions of her beloved album of the same name, she turns Los Angeles's New Temple Missionary Baptist Church into a musical flashback to her own childhood spent singing gospel music. As a performer and musician, she re-arranges old songs, passed down through generations of preachers and singers, into invigorating new texts. Similarly, this movie, once considered a "lost" document of her artistic prowess, now emerges in the present, reconfigured from footage shot by the filmmaker Sydney Pollack, and the act of watching it can turn your humble, local movie theater into a rollicking, sacred house of worship. While Franklin is undoubtedly the star here, commanding attention with her every move and utterance, the film itself is also an archive of other less well known faces from the past. We see the expert session musicians working to compliment her soulful vocals, the backup singers swaying in their seats as they accompany her, and the adoring fans stationed in the pews, bearing witness to her genius. There are so many layers of memory and artifice to untangle, adding poignancy and complexity to an already powerful performance.
Where to see it: In theaters now (Watch the trailer)
8. Transit
Released: March 1
Cast: Franz Rogowski, Paula Beer, Godehard Giese, Maryam Zaree
Director: Christian Petzold (Phoenix)
Why it's great: Everything is slippery in Petzold's meticulously strange psychological thriller. Like in his last film, the transfixing Hitchcock-ian World War II era genre riff Phoenix, there's an element of mistaken identity at play: On-the-run German refugee Georg (Rogowski) arrives in Marseille with the documents of a celebrated author and soon finds himself pretending to be the famous man in exchange for safe passage to Mexico. Meanwhile, the writer's wife (Beer) searches the city for her husband, crossing paths with his double in bars and on the streets. The thorny, complicated story is adapted from a 1942 novel by Anna Seghers, which was set during the 1940s, but Petzold strips the set-up of most period-specific signifiers and stages the intrigue-filled drama in a slightly askew, destabilizing version of the present. (For example, no one has cell phones but the fascist troops carry large assault rifles and dress in SWAT gear.) As a conceptual gambit, the question of "when" we are creates compelling moments of discomfort and asymmetry; on an emotional level, it can make the twists and turns in the plot feel slightly removed, like a mathematical proof for an unknown (potentially unsolvable) problem. Petzold's sure-handed direction, clean and economical in spite of the narrative knots, evokes the romance of the past and prods at the contradictions of the present. Being unstuck in time has rarely felt so uniquely pleasurable.
Where to see it: In theaters now (Watch the trailer)
7. John Wick: Chapter 3 – Parabellum
Released: May 17
Cast: Keanu Reeves, Halle Berry, Laurence Fishburne, Mark Dacascos
Director: Chad Stahelski (John Wick: Chapter 2)
Why it's worth checking out: Whether he's slamming an enemy in the face with a book in a library or dodging stray bullets while galloping down a Manhattan street on horseback, John Wick remains calm. The always-on-the-run assassin, returning for the third entry in this surprisingly resilient series, shows weakness, pain, and even vulnerability, but no weapon can puncture the armor of stillness Reeves brings to the role, and his performance is what makes these movies so gripping. The story is mostly silly — Wick has been declared "excommunicado" by the order of assassins he used to belong to and must seek out old allies across the globe — but Reeves and his collaborators, including series director Stahelski and the top-notch stunt team, never lose sight of the core elements that make Wick tick. Even as the mythology grows more complicated, the cast expands to introduce comically named characters like The Adjudicator (Billions break-out Asia Kate Dillon) or The Director (Angelica Huston), and the fights become even more elaborate, Reeves floats through the film. Even if some of the original's underworld grit has been shined away, replaced with scuff-free comic-book opulence and whiskey commercial ambiance, the series stays committed to simple pleasures. Alongside Tom Cruise's more outwardly stressed Ethan Hunt, Wick remains the best action hero Hollywood has to offer.
Where to see it: In theaters now (Watch the trailer)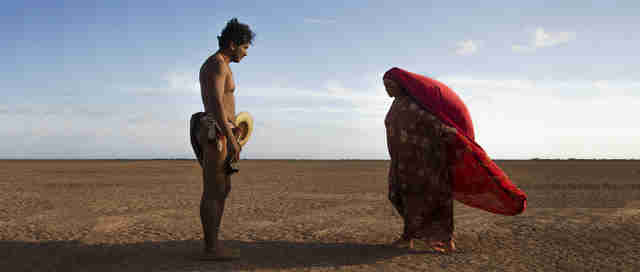 6. Birds of Passage
Released: February 13
Cast: Carmiña Martínez, Natalia Reyes, José Acosta, Jhon Narváez
Directors: Cristina Gallego and Ciro Guerra (Embrace of the Serpent)
Why it's great: The sprawling gangster epic, complete with harrowing gun battles and bracing double-crosses, gets a thoughtful reimagining in this chronicle of an indigenous Wayúu family in northern Colombia who get swept up in the marijuana trade of the late 60s and 70s. (It all starts with some long-haired American Peace Corps volunteers looking to get high.) As is often the case in these stories, the influx of cash and uptick in violence within the community has destabilizing effects: historic traditions, codes of honor, and familial ties get abandoned in pursuit of empire building. We follow Rafayet (Acosta) as he attempts to hold onto his soul in the midst of unchecked, unflinching free-market chaos. What sets this tale of greed and betrayal apart from every Goodfellas knock-off you've ever seen? The filmmakers have an expert control of pacing and style, letting the story unfold through long chapters and nail-biting sequences of suspense. By the end, you're fully immersed in the world.
Where to see it: Rent on Amazon, iTunes, Vudu, and YouTube (Watch the trailer)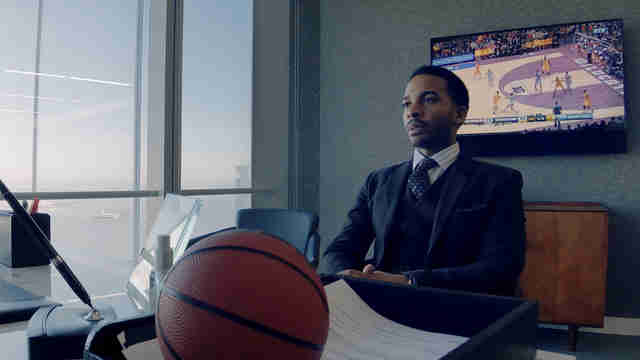 5. High Flying Bird
Released: February 8
Cast: André Holland, Zazie Beetz, Bill Duke, Jeryl Prescott
Director: Steven Soderbergh (Traffic)
Why it's great: The "game on top of the game" is the true subject of this dazzling, head-scratching inversion of the sports movie from the stylistically restless director Soderbergh and Moonlight writer Tarell Alvin McCraney. Instead of locker-room huddles and buzzer-beater shots, this is a story of modern athletics stripped of all the highlight footage: Ray Burke (Holland) is a sports agent representing a young basketball client in the midst of a league lockdown. A weary maverick with an eye for the bigger picture, Burke needs to save his job, serve his client, and possibly "disrupt" an organization with a history of mistreating its clients. A hybrid of Jerry MaGuire-like behind the scenes drama and Moneyball-esque wonkery, High Flying Bird will be an odd hang for some — characters trade lengthy monologues, real-life NBA players show up for documentary interludes, and, like Soderbergh's recent health care thriller Unsane, the whole movie was shot on an iPhone — but it's worth putting the time in and thinking your way through. Few filmmakers are playing the game at this level.
Where to see it: Streaming on Netflix (Watch the trailer)
4. Peterloo
Released: April 5
Cast: Maxine Peake, Pearce Quigley, Rory Kinnear, David Moorst
Director: Mike Leigh (Mr. Turner)
Why it's great: Peterloo, Mike Leigh's politically daring and immensely moving historical drama about the Peterloo Massacre of 1819, is a film that takes the nitty-gritty process of coalition-building seriously. The amount of time Leigh devotes to lengthy speeches made in cramped kitchens, crowded taverns, and bucolic open fields might strike some as superfluous or just plain dull, but the fiery rhetoric, mostly delivered by working-class English men and women seeking reforms to Parliament and an extension of voting rights, is more varied than it might appear. Some characters call for bloody revolution, others for careful adjustments to the system, and a few are simply tired of all the talk, skeptical it can accomplish anything. (The powerful bureaucrats in charge of the oppressive system are also tied up with their own legalistic, darkly funny babble.) The effectiveness of language in the face of brutal state violence is put on display in the film's tragic final section, which dramatizes a harrowing attack on peaceful protesters by saber-wielding soldiers in St Peter's Fields. Equally concerned with tactics and rhetoric, Leigh's movie is the rare cinematic portrayal of the past that refuses to focus on a single "great" individual; instead, it shows how radical change can be pursued by groups coming together in pursuit of common goals. Climbing on a soapbox, potentially exposing yourself as a blabbering fool or as a galvanizing leader, requires its own type of bravery. Peterloo's brilliance lies in its ability to examine that courage and the quieter moments in between.
Where to see it: Rent on Amazon, iTunes, and YouTube (Watch the trailer)
3. Ash Is Purest White
Released: March 15
Cast: Zhao Tao, Liao Fan, Feng Xiaogang, Xu Zheng
Director: Jia Zhangke (Mountains May Depart)
Why it's great: It's not uncommon for a grand romance to unfold over the years against a fraught, ever-evolving historical backdrop. At first glance, Ash Is Purest White, the new film from Chinese filmmaker Jia Zhangke, looks like a familiar epic, a sweeping tale of sex and violence between a gangster and his lover, grafted onto the tricky dynamics of 21st century China. When we first meet Qiao (Tao) and Bin (Fan), they are fellow travelers in a seedy, small-time criminal underworld, one where "YMCA" dances can break out at crowded clubs and thrilling fist-fights can erupt in city streets, like in a Hong Kong action movie from the '90s. But as the two grow apart, both geographically and emotionally, Ash Is Purest White more fully becomes Qiao's story and the movie takes on its own haunted, discursive tone. While examining matters of loyalty, sacrifice, and disillusionment, Zhangke arrives at emotional truths that aren't always spoken by the characters. Instead, he allows his actors, particularly the incredible Tao, to embody these ideas with the smallest movements and the subtlest gestures. The tensions and complications of history weigh them down, but that never prevents the film from taking flight.
Where to see it: Rent on Amazon, iTunes, and YouTube (watch the trailer)
2. The Souvenir
Cast: Honor Swinton Byrne, Tom Burke, Tilda Swinton, Jack McMullen
Director: Joanna Hogg (Exhibition)
Why it's great: What do we owe to the people we love? That's one of the many unanswerable questions driving this achingly beautiful, tenderly observed portrait of a toxic relationship between young film student Julie (Byrne) and cagey heroin addict Anthony (Burke). Against the backdrop of a specific slice of wealthy early '80s London, the movie — which debuted at the Sundance Film Festival — follows the couple's early awkward courtship, defined by brittle exchanges of ideas and emotions, while also keeping a watchful eye on Julie's tentative development as an artist. She wants to make movies and has a curiosity about the larger world around her; Anthony, with his cynicism and his anger, cannot help but put himself on a path to destruction. Like in many stories of young love, ruin is inevitable. On a premise level, the movie sounds almost comically bleak, like a parody of an art film from an episode of Seinfeld, but Hogg's scene-by-scene execution, finding moments and images that vibrate with specificity and life, is stunning. It's a movie that breaks your heart with studied precision.
Where to see it: In theaters now (Watch the trailer)
1. High Life
Released: April 5
Cast: Robert Pattinson, Juliette Binoche, André Benjamin, Mia Goth
Director: Claire Denis (Let the Sunshine In)
Why it's great: French filmmaker Claire Denis makes movies that claw at the brain and activate the senses. For her latest project, the ambitious and lyrical space drama High Life starring Robert Pattinson, she's crafted a story that's equal parts heady prison thriller, psycho-sexual medical mystery, and bong-rip journey through the cosmos. Bouncing backwards and forwards in chronology, the story tracks quiet inmate Monte (Pattinson) as he raises a baby in a cavernous, dorm-like shuttle in one timeline and attempts to thwart the secretive plans of an oddball scientist (Binoche) in another thread. Exactly how Monte ends up alone with the baby, playing the role of single parent in the stars, would be the central question of a more conventional sci-fi narrative, and there are surprising plot twists and shocking violent acts committed here. But Denis fills the movie with curious images and wild ideas that complicate the dystopian set-up. The ship has both a Eden-like garden, where Outkast's Benjamin waxes philosophical about his work, and a Cronenbergian machine Denis has called "the fuckbox," where Binoche unfurls her long hair and experiences moments of erotic ecstasy. They aren't set up as polarities or opposing ideas; instead Denis weaves all these elements together using the elliptical methods she's developed over a long career. Like Jonathan Glazer's equally haunting genre experiment Under The Skin, High Life resists the solutions of puzzle-box filmmaking, choosing instead to explore its own perilous terrain of desire.