1Rise Bar Non-GMO, Gluten Free, Soy Free, Real Whole Food, Whey Protein Bar (20g), No Added Sugar, Almond Honey High Protein Bar with Fiber, Potassium, Natural Vitamins & Nutrients 2.1oz, (12 Count)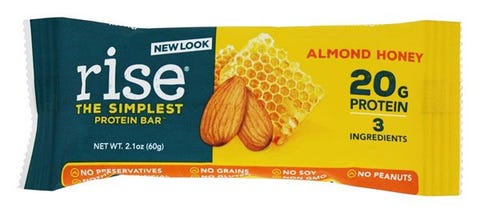 AMAZONRiseBaramazon.com$20.40SHOP NOW
"Having a straight-forward, simple ingredient bar like Rise in your back pocket makes it easy to avoid the impulse grab of junk food," says Christina Meyer-Jax, MS, RDN, a professor of nutrition at St. Catherine's University in St. Paul, Minnesota. "I like that they are a little higher in monounsaturated fats from the nuts, along with being high in protein. This is an ideal combo to help us feel fuller longer." The 280-calorie bar has 20 grams of protein and four grams of fiber.2PROBAR – BASE 2.46 Oz Protein Bar, Cookie Dough, 12 Count – Gluten-Free, Plant-Based Whole Food Ingredients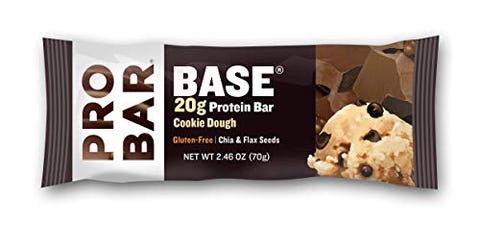 AMAZONProbaramazon.com$36.59SHOP NOW
Probar's plant-based BASE protein bar contains 20 grams of protein and all 9 essential amino acids, which is "helpful for post-workout recovery," Meyer-Jax says. The best part? There's no added sugar, but they still taste great.ADVERTISEMENT – CONTINUE READING BELOW
3Quest Nutrition Protein Bar, Apple Pie, 2.12 Ounce (Pack of 12)

AMAZONQuest Nutritionamazon.com$24.96SHOP NOW
Quest's Apple Pie is one of the few great tasty fruity bars. You'll even find small chunks of actual apples, as well as the subtle taste of cinnamon throughout the bar. This bar hits the 20 grams of protein, but also provides a whopping 16 grams of fiber, all for 190 calories. One drawback: The bar contains erythritol, a sweetener that some people report leads to gastric distress.4Mint Chocolate Chunk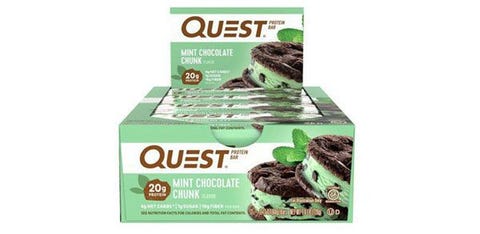 QUEST NUTRITIONquestnutrition.com$24.99SHOP NOW
This 200-calorie bar gets the highest compliment you could hope for in a mint/chocolate combo: it's reminiscent of the famous Thin Mint Girl Scout cookie. Real peppermint oil gave the bar a refreshing feel that really pops from the rich, smooth chocolate taste. It houses 2o grams of protein and 16 grams of fiber, but there's that erythritol again.ADVERTISEMENT – CONTINUE READING BELOW
5Source Bar Naturally Sweetened (Chocolate Chip Cookie Dough)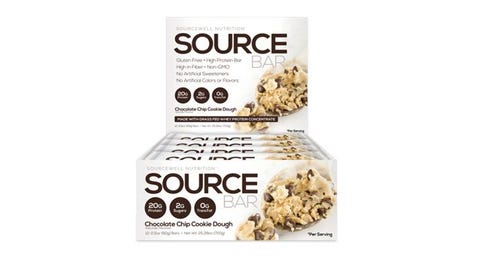 SOURCEWELL NUTRITIONsourcewellnutrition.com$28.00SHOP NOW
This bar offers 20 grams of protein and 12 grams of fiber for 230-calories of cookie dough glory. Just watch the strange sweeteners here too.6Grenade Carb Killa Protein Bar, Great Tasting High Protein and Low Carb Snack, Chocolate Cream, (Pack of 12) 2.12 oz each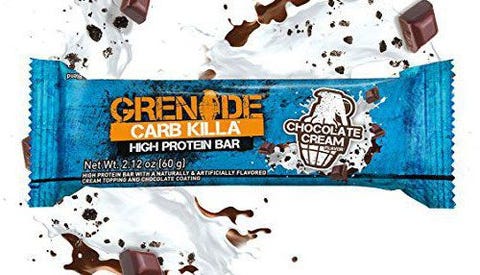 AMAZONGrenadeamazon.com$29.40SHOP NOWADVERTISEMENT – CONTINUE READING BELOW
7Salted Caramel Cookie Dough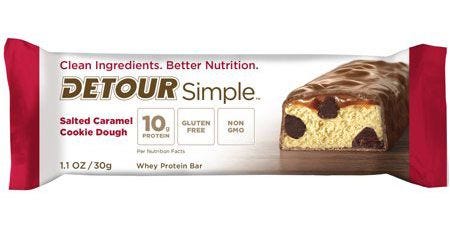 DETOURdetourbar.com$20.99SHOP NOW
Cookie dough is a stacked flavor category for protein bars, but the salted caramel adds an interesting jolt to regular old sweetness. You'll net 20 grams of protein and six grams of fiber for 230 calories. This is the protein bar for people who don't like the flavor of protein bars.8OATMEGA Protein Bar, White Chocolate Raspberry, Energy Bars Made with Omega-3 & Grass-Fed Whey Protein, Healthy Snack, Gluten Free Protein Bars, Whey Protein Bars, Nutrition Bars, 1.8 ounce (12 Count)

AMAZONOatmegaamazon.com$13.89SHOP NOW
Most protein bars come in some variation of milk or dark chocolate and peanut butter. These Oatmega bars really stand out with its unique combination of tart raspberry and creamy white chocolate. Although they're a bit lower in protein–14 grams for one bar–they are also lower in sugar and calories, making it a good snack instead of meal replacement, says Jessica Bachman, R.D. and nutrition coach at Stronger U.ADVERTISEMENT – CONTINUE READING BELOW
9FitJoy Protein Bar, Gluten Free, Low Sugar, High Protein Snack, Grandma's Lemon Square, Pack of 12 Bars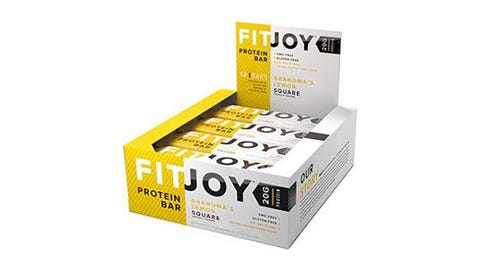 AMAZONFitJoyamazon.com$29.99SHOP NOW
We're pretty sure Grandma wasn't blending whey protein into her legendary dessert, but whatever. One of these bright-tasting bars has 220 calories, 20 grams of protein, and 11 grams of fiber. "This has a solid amount of protein to really help boost intake post workout," says Elizabeth Shaw, R.D. However, she notes that some people may have trouble digesting chicory root and could have an upset stomach.10Premier Protein Nutrition Bar, Chocolate Peanut Butter, 30g Protein, 2.53 Ounce Bars (6 count in 1 Box)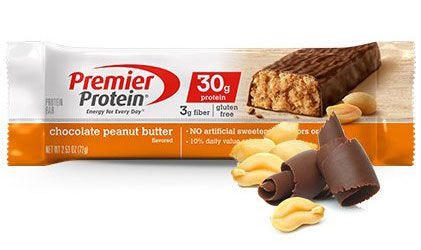 AMAZONPremier Proteinamazon.com$9.50 $5.59 (41% off)SHOP NOW
These are Bachman's go-to protein bar. "For those of you with higher protein needs or potentially even looking for a bar to replace a meal you can eat on the go, this bar is for you," she says. At 290 calories, they offer a whopping 30 grams of protein, "plus they are delicious," Bachman raves.ADVERTISEMENT – CONTINUE READING BELOW
11NuGo Nutrition – Slim Bar Brownie Crunch – 1.59 oz.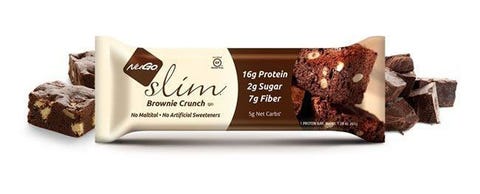 AMAZONNuGoamazon.com$23.93SHOP NOW
This bar is proof that a low calorie bar can legitimately satisfy your chocolate craving. "I'm actually a fan of this bar," says Shaw. " I like the taste (one of the most important things IMHO when choosing a bar). Plus, you'll get 16 grams of protein, 7 grams of fiber and only two grams of sugar for only 190 calories.12Perfect Bar Whole Food Organic Protein Bar, Gluten Free Peanut Butter, 2.5 Oz Bar (Pack of 24)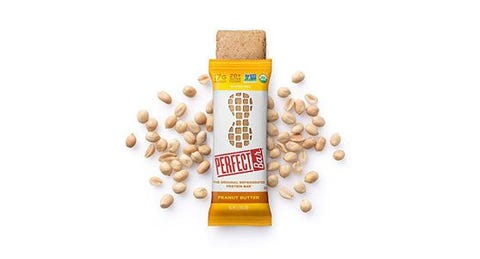 AMAZONPerfect Baramazon.com$62.30SHOP NOW
"With a decent amount of protein and fairly easy to read ingredient panel, the Perfect Bar has easily become a fan favorite," says Shaw. But it packs 330 calories, so it's better as a meal replacement for guys looking to bulk up, says Bachman.ADVERTISEMENT – CONTINUE READING BELOW
13Quest Nutrition Protein Bar, Cookies & Cream, 21g Protein, 4g Net Carbs, 200 Cals, High Protein Bars, Low Carb Bars, Gluten Free, Soy Free, 2.1 oz Bar, 12 Count [Cookies & Cream]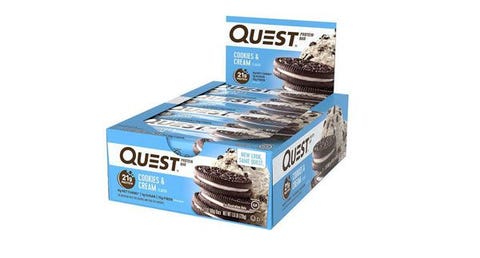 AMAZONQuest Nutritionamazon.com$21.49SHOP NOW
Somehow, these bars are able to deliver a tasty cookies and cream flavor with only one gram of sugar. Factor in 20 grams of protein and 9 grams of fiber and you've got yourself a solid post workout snack.14thinkThin High Protein Bars, Brownie Crunch, 2.1 oz Bar (10 Count)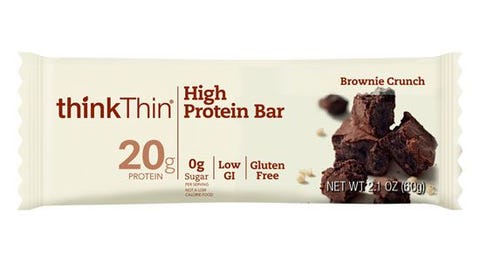 AMAZONthinkThinamazon.com$14.26SHOP NOW
This bar is another go-to for Bachman because it's high in protein, has zero sugar and only 230 calories. "It's an excellent snack for people wanting high protein intake during weight loss or to support muscle gain," she says. ADVERTISEMENT – CONTINUE READING BELOW
15MuscleTech Mission1 Clean Protein Bar, High Protein, Low Fat, Delicious, Chocolate Brownie, 12 Count, Net Wt. 1.59 lbs. (720 g)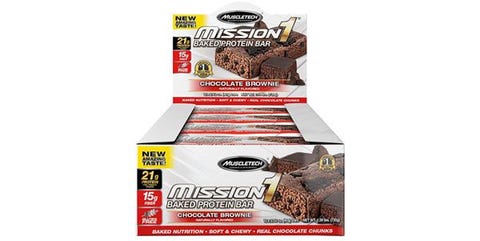 AMAZONunknownamazon.com $25.49SHOP NOW
These gluten-free bars are loaded with 15 grams of fiber and 21 grams of protein for only 200 calories. Plus, the chocolate chunks are a nice touch to make it seem like you're legitimately eating a brownie.